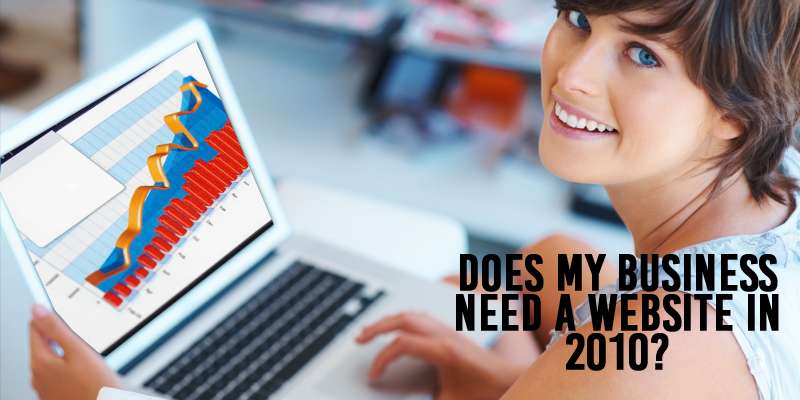 Does my business need a website in 2010? One word: ABSOLUTELY!
The Internet trend watching site, eMarketer quoted an Ad-ology survey conducted earlier this month that reveals some rather alarming numbers: 46% of small and medium business owners did not have a website in 2009.  Another study conducted by VistaPrint found that only about 50% of small business owners that have a website are actually tracking their online marketing efforts! And the icing on the cake is a study from a Discover Small Business Watch Poll that corroborates Ad-ology's survey results and goes on to state that a lot of small and medium business owners perceive the need for a website for their business as a "myth".
This begs the question: As a small or medium business owner, what are you losing out on if you don't have your own website?
The answer is very clear: Customers!
Come on folks! We are just about ready to start year 2010. People are no longer using the (actual) yellow pages or phone books to look for information. The three major search engines are serving up local search results even when a search does not include a local or geographical qualifier. The bottom line: Small and Medium businesses need web presence that they can directly influence and control.
There are many ways for you to establish web presence. Of course, you can go Yelp or use other social media websites such as Merchant Circle and get a "listing" but always remember, you don't control any of these. You have zero say on how they will allow you to connect with customers. It is better than nothing… but sadly it is still not enough.
Your very own website gives you the ability to:
Provide information and details about your products and services to people all over the world
Set yourself apart from your competition, especially if they don't have a website
Become visible to the growing population that rely solely on the internet for information
Harness the power of social media and social websites, the new word of mouth
Properly and effectively leverage local search results from search engines
Establish yourself as an authority with your customers and within your industry
Build credibility with your customers by sharing information about your company
Build and create your own community (social network)
Leverage email marketing by building an email list and using that to market to potential clients
Before you jump on a website, take the time to identify why you need a website and what you need in that website. Remember, not all small businesses have the same "web presence" goals. Whether you want to simply promote your idea, sell products and services or build an online community, give it serious thought and plan your web presence goals.
So, now that you've got your goals planned, how do you go about getting yourself a website?
Website Domain: We recommend that you start by picking your website's domain (that would be in the form of yourbusiness.com). In most cases, the domain name you end up with will be similar to your company or business name. Make sure that you book/register the domain name and that you retain ownership of the domain. We have come across situations where a website designer or development company booked a domain on behalf of a client and then refused to relinquish control of the domain name when the relationship changed.
Design & Development: Hire a professional company to design and develop your website. Don't skip this step. We can tell you countless horror stories where people did not hire the right professional. If you want a proper image, look and feel, go to an expert.  The bottom line is that your website needs to look professional. The exact type of website you end up with will depend on several factors: your brand, your industry, your products or services and your business model.
Website Content: Content is KING on the web. Content is what your potential visitors are after. Content will give you a boost in your SEO (Website Search Engine Optimization) efforts. You do not need a website with lots of pages of content – the aim here is to provide potential clients with the right information about your business and what you are all about. We recommend that you have, at minimum, a 5-6 page website: Home Page, About, Contact, Products, Services and Testimonials and maybe even a Portfolio or Projects Page. The Contact page is essential so that you can leverage local business listings on search engines.
Website Hosting: Unless you already have website hosting in place, we recommend that you stick with your website design company (of course, they should offer website hosting as part of their services) even if you end up paying a little extra for website hosting. Whilst there are many affordable website hosting choices, it is best to stick with your design company because chances are that they know their hosting platforms best. An added benefit of getting hosting through your website design company is having a single contact, avoiding confusion about who's responsibility it is if your website has an issue. Oh, and be sure that you get enough email addresses to cover your needs. Your email address should be you@yourbusiness.com.
Local Search Engine Listings: Make sure you grab your local listings on Google, Yahoo, Bing , Best-of-the-Web and any other third party websites. Go to www.getlisted.org to see if you are listed, and how complete your local listing is.
Internet Marketing: Again, hire a professional Internet marketing company that can assist you to prepare and complete an Internet Marketing Strategy that will include a Social Media plan, an Internet Marketing plan, Search Engine Optimization and Paid Advertising recommendations. The world of Internet Marketing can be daunting and it is best to have professional guidance so that you get the best return on investment (ROI).
On a final note, small and medium business owners are increasingly using the Internet as a marketing channel – this fact is upheld by the 36% increase of SMB owners who have created websites over the past 2 years. This number, no doubt, will increase in 2010 and beyond. Search Engines are putting more and more emphasis on local business listings which in turn makes your website an integral component of your business and marketing.
In short, get a website if you don't have one!
What are your thoughts?
https://www.arnimadesign.com/wp-content/uploads/2009/12/Arnima-DoesMyBusinessNeedAWebsiteIn20101A.jpg
400
800
Arnima Design
https://www.arnimadesign.com/wp-content/uploads/2013/05/RR-Logo-MultiColor-04Jun13-190_80.png
Arnima Design
2009-12-30 11:00:13
2016-02-02 01:40:37
Does My Business Need a Website in 2010?