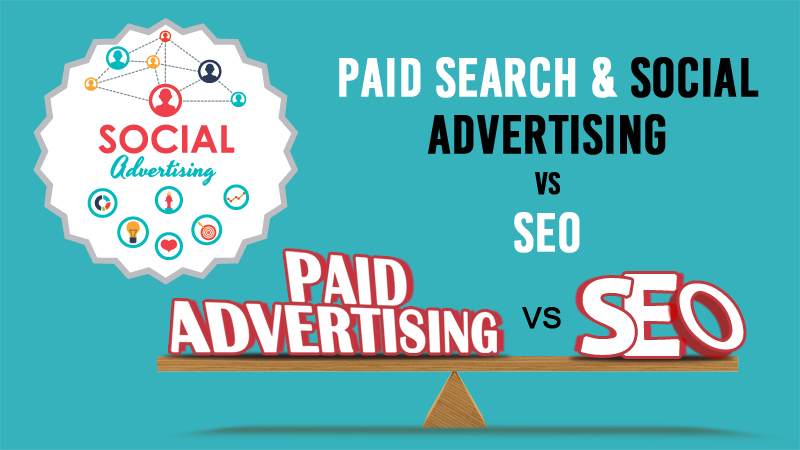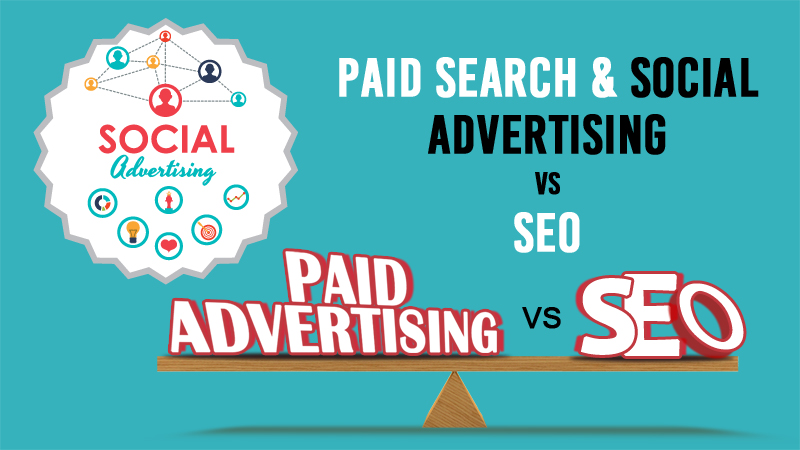 This question about using paid search and social advertising vs SEO comes up quite often when we are discussing web marketing strategies with prospective clients and customers.
A lot of people want to know whether it is better to invest in paid advertising (also known as pay-per-click advertising or cost-per-impression advertising) or in organic search engine optimization (SEO) where your website is naturally optimized for search engine rank over time.
Paid Search Advertising
Let us look at paid search advertising first.
Paid search advertising is the process of driving more traffic to your website by buying ads (paid listings) on search engines, such as Google, Yahoo, Bing, AOL, Ask.com and others as well as some second-tier systems, such as 7Search.
I prefer to call it "advertising" rather than marketing because you are in actuality advertising on search engines and social sites and your listings are generally displayed as Ads.
If you allow me to simplify the process, with paid search advertising, you select a certain number of keywords (from tens to tens of thousands), establish an advertising budget, set a cost-per-click or a cost-per-impression and hit start. Whenever someone searches for any of the selected keywords, in theory, your website should show up in the search results so that people can click through to visit it.
Paid search advertising has several immediate advantages. Here are a few:
You can get started quickly
You have full control over the budget
You have a good degree of control on the cost per click or cost per impression
You can schedule your ads on most search engines and social networks
You can target hundreds to tens of thousands of search terms
You can analyze and track your spending and tweak for best results
Paid search advertising can drive new traffic to your website quickly. And you can target hundreds to tens of thousands of search terms, which is something that is not possible with organic search engine optimization.
Paid search marketing is available on Google, Bing/Yahoo, and other search engines
If you were to head over to google.com and search for the term "auto loan", you would see something like this (the exact ads served would depend on your geographical location and other factors):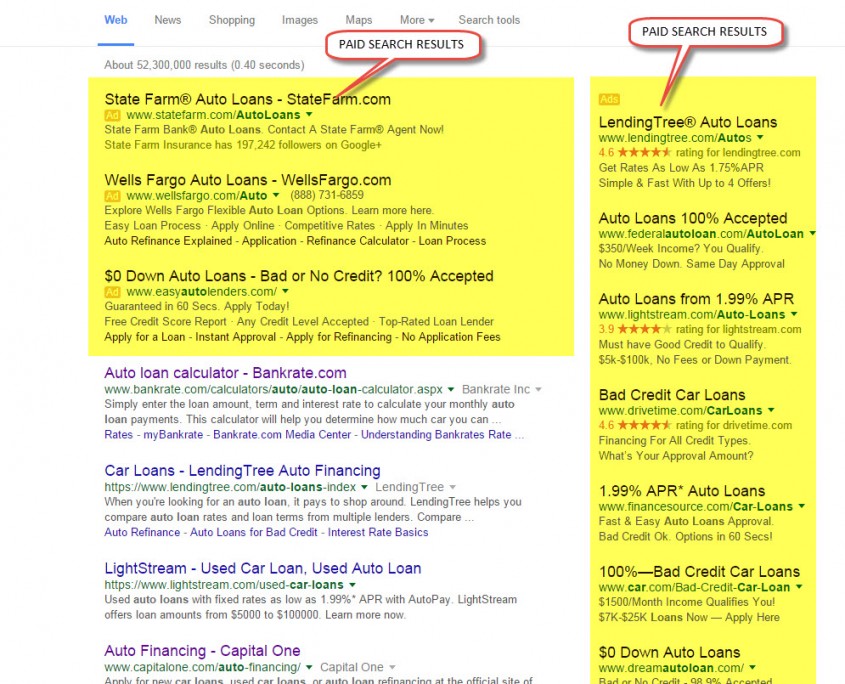 Similarly, this is what your ads would look like on bing.com (again, depending on your geographical location and other factors):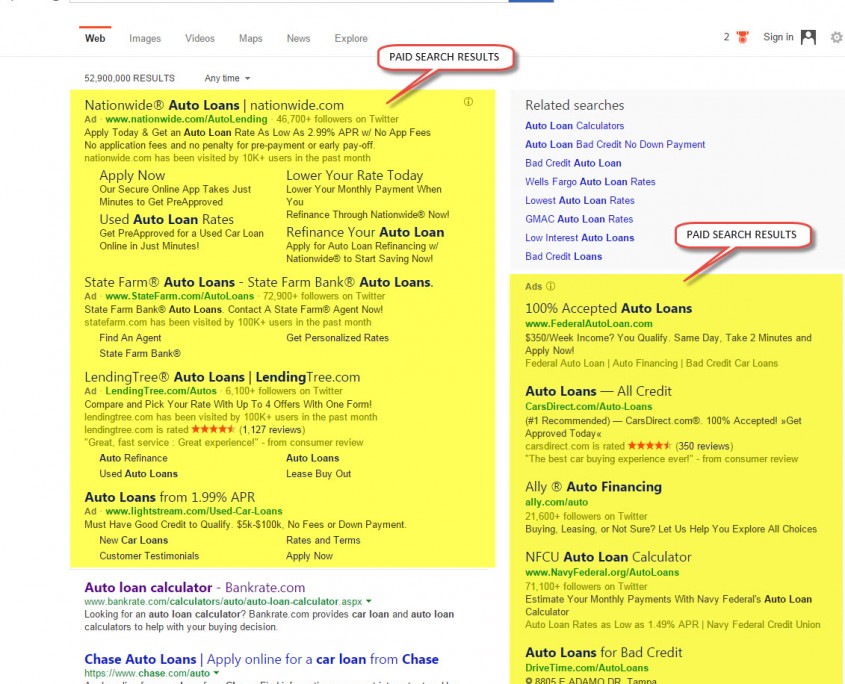 An additional benefit of paid advertising campaigns, especially on search engines is that they can help you fine-tune your keyword selections for organic search optimization. By measuring clicks, traffic stats, click through rates and conversions, you can make get more insight about what keywords may work best in organic optimization.
Note: A word of caution about paid search advertising
If you are uncertain, or unsure about how to set up your paid search marketing campaigns, you probably want to consider consulting an expert as there are lots of settings & options that need be tweaked and adjusted to deliver the best performance.
If you are not diligent in your settings, paid search marketing campaigns can cause you to burn through serious amounts of cash fairly quickly. So be careful!
Paid Social Advertising
Paid advertising is also available on the social networks such as Facebook, LinkedIn, Twitter, Reddit, StumbleUpon, and Pinterest. Each social network has their own version of paid advertising, and may offer one, or more advertising options.
For example, on Facebook, you can boost your posts, promote your page, send people to your website or increase conversions on your website among other options. And on Twitter, you can reach more potential customers or gain more followers.
Here is a screenshot that show a couple of paid ads on Facebook: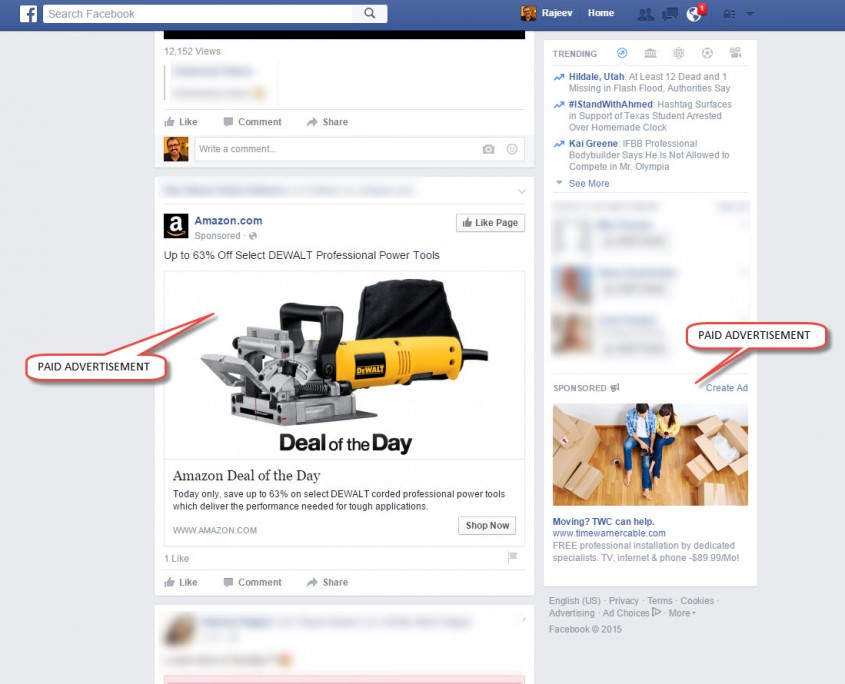 And this is how paid ads appear on Twitter: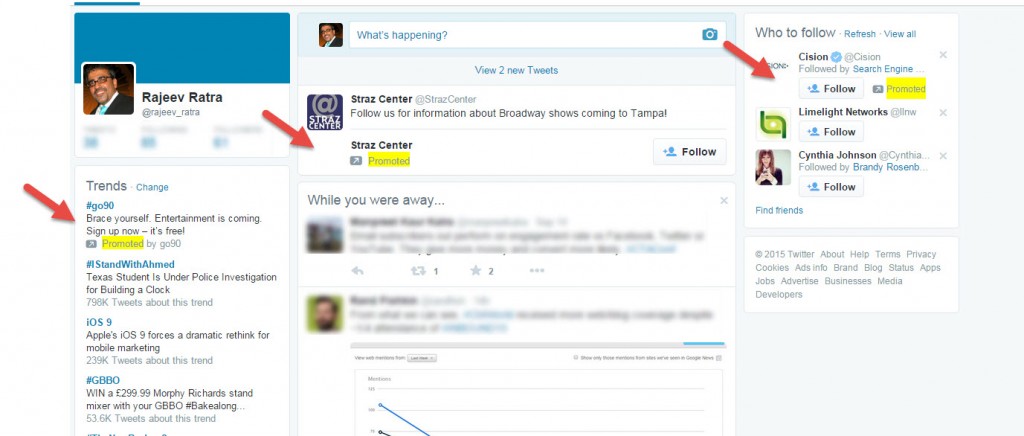 Paid social advertising can give you additional visibility is a great way to promote your content on social networks.
Organic Search Engine Optimization (SEO)
SEO is one of the most important parts of your online (web/internet/digital) marketing strategy. With properly managed SEO, search terms relevant to your business start to naturally appear higher on search engine results, leading to increased traffic. Assuming that your website is properly constructed and structured and has meaningful and relevant content, this can generate more leads and in turn, improve your bottom line. On top of that, natural or organic search engine rank leads to increased credibility, authority, and relevance in the mind of the customers.
Side note: the number of leads that convert to paying customers depends on the overall experience a visitor has on your website. Just getting increased traffic to your website does not automatically guarantee more leads, more conversions, and more sales.
Here is a look at organic results from Google for the term "auto loan".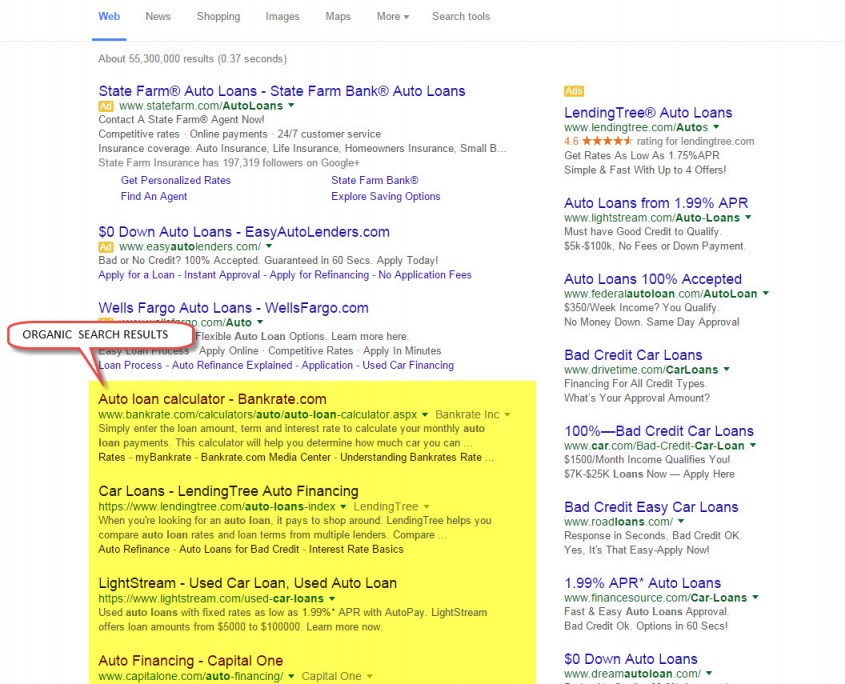 Organic search results are based on the credibility of the website in the "eyes" of the search engine.  SEO does not happen overnight. Building "credibility" in the "eyes" of search engines is something that takes dedicated and consistent effort and should be done slowly and methodically. Search engine algorithms (the magical code-behind-the-scenes-that-determines-rank) are a well–kept secret and are constantly being updated: Google alone releases over 500 updates annually. Also, note that Search engine rank can and does change regularly, sometimes drastically, so you will need to keep a sharp eye on such updates. If in doubt, hire an SEO agency to manage your search engine optimization.
Paid Search & Social Advertising vs SEO
In reality, it is not about paid search & social advertising vs SEO. It is actually about using both methods.
For most businesses, one of the best ways to get maximum exposure on the Internet is to use both paid advertising and organic search engine optimization together, as in concurrently. The purpose here is to create the most visibility for your website online.
This immediately begs the question: why?
Here is a screenshot from Google showing both paid and natural search results for the same website for the search term "online presentation tool".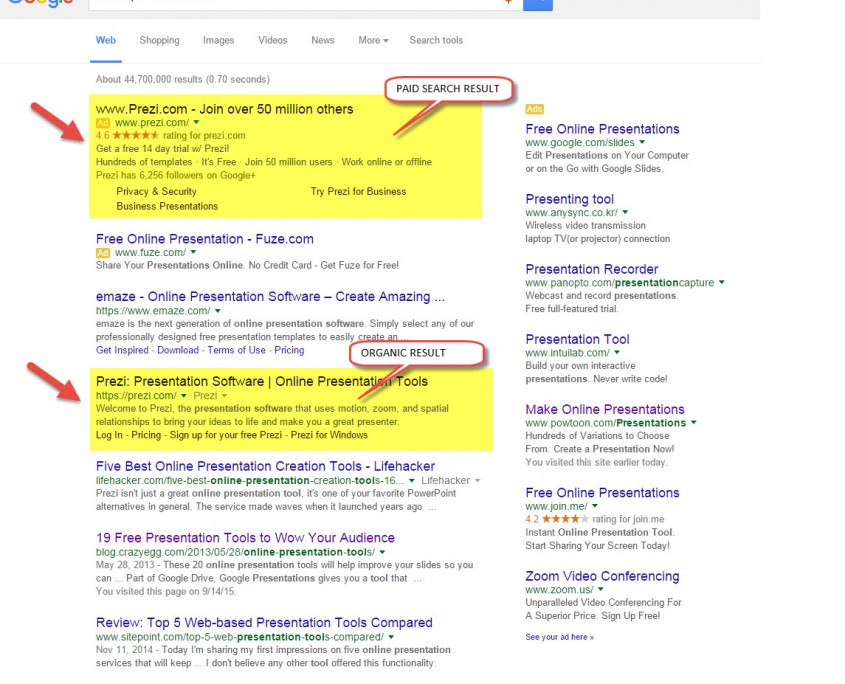 Note that prezi.com appears at the top of the page at #1 in the paid listings and also appears at #2 in the organic results.
Let's think about this for a moment.
If a prospective customer were to see the same company twice on the same page, and that too "above the fold" (where content is visible without scrolling) do you think that person is more likely to click to view that website?
A combined paid advertising and organic optimization strategy will get you to stand more than using one or the other. A high organic rank, typically on page 1 of Google, is also a credibility booster.
If there is a downside to using both paid advertising and organic search, it would be these cost. So, if you are operating under a limited budget, it may be worth adjusting your spending so that you can allocate money to both SEO and paid advertising.
Caution
Avoid working with a company that guarantees #1 rank on any search engine, or guarantees results that appear just too good to be true. Use your best judgment before making a decision; make sure the agency you select is competent and make sure you ask to see results of their work – a solid portfolio of organic SEO projects with high rank for customer websites is one of the indicators of success. You can also see traffic stats, conversion metrics, and other such data.
What has been your experience with paid search and social advertising vs SEO? What worked better for you? Paid search and social advertising? SEO? Or Both?
https://www.arnimadesign.com/wp-content/uploads/2017/02/Paid-Search-Social-Advertising-Vs-SEO.jpg
450
800
Rajeev Ratra
https://www.arnimadesign.com/wp-content/uploads/2013/05/RR-Logo-MultiColor-04Jun13-190_80.png
Rajeev Ratra
2017-01-15 07:00:57
2017-02-28 14:34:37
Paid Search and Social Advertising vs SEO