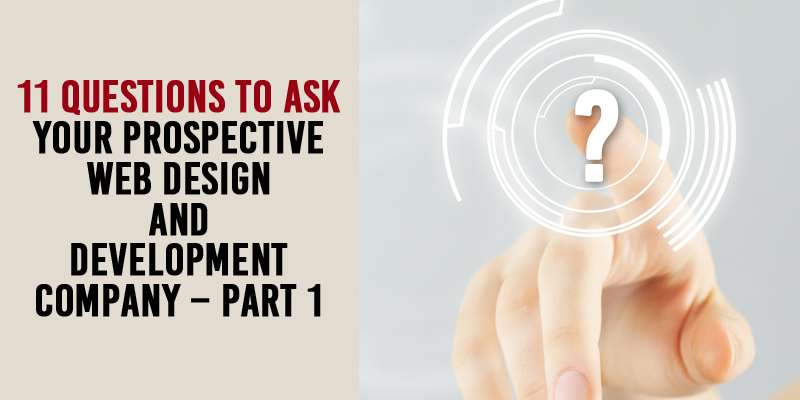 In part 1, we will cover the first 5 questions to ask your prospective web design and development company. This will be followed by the second part where we will cover the remaining 6 questions.
1. Why should I hire your company and not a freelance web designer?
It depends. Whilst independent web designers, some of whom are extremely good, have a lot to offer, be sure to consider that a web design & development company will have in place, at the very least, the following:
(a) robust design, development and test processes
(b) access to the knowledge and expertise of an entire team of highly-qualified individuals
(c) a proper quality assurance mechanism
(d) access to large library of tools and components
(e) the ability to collectively solve problems and brainstorm as a team.
2. How long has your company been in business?
There is no hard and fast rule here. It ultimately depends on your comfort level, and, equally importantly on the cost factors. You may be comfortable working with a startup, or with a company without much experience, however, be sure to give this due consideration. Bear in mind if a company has been around for a long time, chances are they know what they are doing and thus they may be worth considering.
3. Can you show us samples of your work?
A good web design & development company should have a varied portfolio and this portfolio should illustrate their capabilities. A few important things to watch for: creativity, uniqueness of design, streamlined navigation and how well the design represents a brand.
4. Can you provide client testimonials?
Well established web presence companies will be happy to provide you with a list of satisfied clients. In fact, most of them would also make this list of testimonials available on their websites. If a company is unable to supply you with testimonials, or is unwilling to supply them, it should raise a red flag.
5. How experienced is your team?
A proper team structure will ensure that your project is handled in a professional fashion. A proper team structure indicates that a company has spent time and effort into cultivating a team culture. Any company that is serious about what they do will be happy to have you go to their offices and meet with their staff. If a company balks at a face-to-face meeting, well, you get the hint.
https://www.arnimadesign.com/wp-content/uploads/2010/08/Arnima-11-Questions-to-ask-Part-1A.jpg
400
800
Arnima Design
https://www.arnimadesign.com/wp-content/uploads/2013/05/RR-Logo-MultiColor-04Jun13-190_80.png
Arnima Design
2010-07-15 11:00:17
2016-02-02 01:40:37
11 Questions to ask your Prospective Web Design and Development Company – Part 1