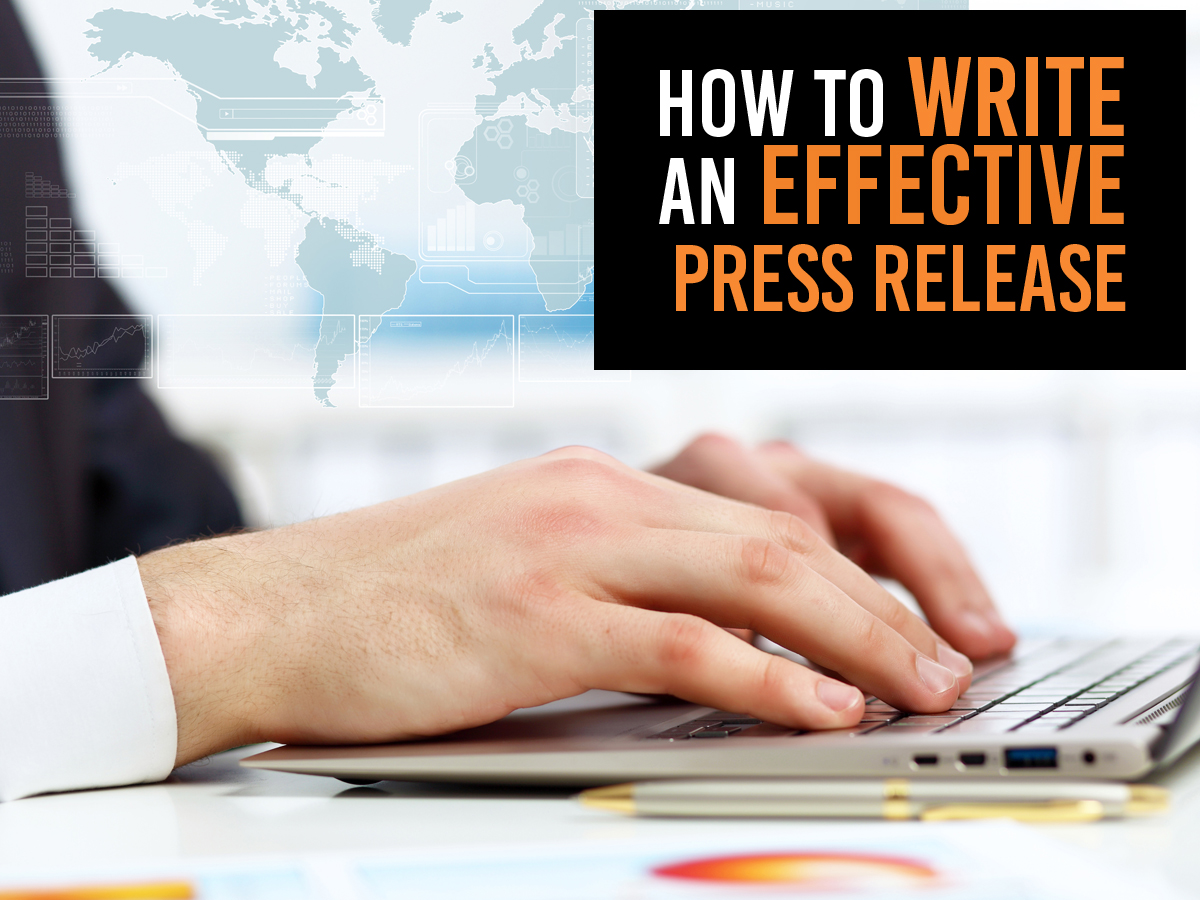 Genuine and Meaningful Press Releases are an excellent way to:
1. Publish fresh and original content on a regular basis to keep your website updated
2. Announce important news about your organization to your audience
3. Keep your clients and regular visitors informed about your organization
4. Keep the search engines happy – especially Google – as they love fresh content!
A press release requires a specific style and layout to be viewed as a credible source of news for business or organization. A properly written press release generally consists of a total of 500 to 800 words that fit within 4 to 5 paragraphs. Follow these simple guidelines on how to write an effective press release and you will be an expert in no time.
A typical press release will have the following sections:
HEADLINE
Your headline should be simple, short, sweet and to the point and should include your primary keyword(s). Remember, the headline is your main opportunity to grab the reader's attention so start strong. PR Pundits generally advise writing your headline and summary at the end so you don't miss including your most important keywords and pertinent information in your release.
Length: Search Engine Specific. Google will display the first 60 characters, Yahoo! the first 120 and each PR Release Channel may have their own limits. As you write your press release, make sure that the length of your headline conforms to the requirements of each search engine.
Format: Headlines are written in Title Case. Title Case is where you capitalize each word except for prepositions and articles that are three characters, or less.
SUMMARY OR SUBTITLE
The first paragraph of the press release should summarize what the press release is all about. This paragraph should focus on why the press release is important, and why this particular piece is newsworthy.
The summary then follows immediately after the headline and is a great way for you to write a brief description of your organization as well as the information you want to include in the release.
Some PR release channels display only your headline and summary along with a link to your release. Furthermore, if your press release does not have a summary, it can reduce the effectiveness of your news since readers will not have sufficient reason to click for more details – readers may simply scan the summary to decide whether the news is worth reading or not.
Length: Best kept short, but can be as long as 1-4 sentences.
Format: Sentence case
DATELINE & LEAD (OPENING) PARAGRAPH
The purpose of the Dateline and lead paragraph is to announce what you want to say and provides answers to the 5 w's – who, what, when, where and why questions followed by the how question that a reader may have about your story.
As with the headline, keep the lead paragraph simple and to the point. The idea is to continue to hold the attention of your reader and to keep them engaged. Oftentimes, a reader may focus on the dateline and lead paragraph so give this the attention it deserves. As with the headline and summary, include important keywords in the lead paragraph
The lead (opening) paragraph appears immediately after the summary and starts with the city and state where the business, company, organization or group is located followed by PR channel being used followed by the date this release is being made public.
Length: 25-30 words at the most
Format: City, State (PR Channel) Day Month Year – followed by the "meat" of the press release
PRESS RELEASE BODY
This is where you actually tell the story. Limit the body to a maximum of 3 paragraphs; make sure the paragraphs are single spaced and have a blank line separating them.
Each of these paragraphs should focus on one particular topic or idea or concept and again, should be brief and to the point.
Avoid lengthy and verbose language and at any cost, avoid a "salesy" type of tone: since this is a news release, it is best to sound like a newscaster with a neutral and objective tone.
Length: 300 to 750 words separated into 3 paragraphs
Format: Sentence case; keep sentences short and meaningful
SUGGESTED FORMAT FOR BODY OF A PRESS RELEASE
Starting Paragraph: focus on the 5w's followed by the how. Media channels will usually grab this information if they happen to "pick-up" your press release.
Focus Paragraph: focus on details that you can use to support your story. This is where you can generate interest and emphasize what you want to say in your story. You can include statistics, charts, quotes from clients, staff or other SMEs (Subject Matter Experts). Be sure to fill in an appropriate level of details to support the information you are presenting and always include a link to your website or web page if relevant.
Closing Paragraph: use this area to summarize the key points of the press release and to reinforce any critical points. You can also include legal language of details about your products or services and also provide a way for your reader to get more information.
TIPS FOR WRITING AN EFFECTIVE BODY
-Refer to your organization in the subjective i.e. do not use "I", "we" in any of your narrative
-Avoid exclamation points, ALL CAPS, lofty claims, hyperboles, clichés (e.g. we are amazing, the best, etc)
-Do not include an email address if you want to avoid getting a ton of spam
-Keep the press release as short as you can while keeping it meaningful; do not scrimp on detail
-It is best to use links (hyperlinks) sparingly – about once per 100-125 words of your release.
-Create meaningful links whether you use anchor text links, or active URL hyperlinks
-Avoid HTML tags, non-standard characters, HTML tables and forced line breaks if submitting online
-Use your spell checker to check your spelling before you submit your release anywhere
COMPANY INFORMATION (NORMALLY BOILERPLATE)
Company Information is essential as it talks specifically about your organization, business or group. This is a standard area of all press releases and should contain a brief, objective/factual summary of your organization or business.
You can use the same company information in each press release that you publish, hence the term boilerplate. Include copy about important people, services, and details. Include your organization, or company's contact details. city maps
This will allow interested readers to contact the proper individuals for more information. This area generally includes the name of the point person, contact number(s), email addresses, company website URL and recently, links to social media profiles.
Length: 1-2 short paragraphs
Format: Sentence case
PRESS RELEASE TIPS
-Write Professionally, Remain Objective and Be Accurate
-Double check for spelling and grammatical errors – once a release is issued, it cannot be retracted!
-Avoid jargon, clichés, hyperboles, lofty claims and the like
-Press Releases are news and not advertising, direct marketing or such; keep them to the point
-Convert graphs or charts to images (JPGs) and embed them in your release
IDEAS THAT ARE PRESS RELEASE WORTHY
-New product or service launch; significant business overhaul
-New employee hire
-Business expansion
-A new customer engaged; a new contract signed;
-A new project completed
-Community, or charity involvement
-A noteworthy "release" of info or material, such as an expert opinion, best practices handbooks
IMPORTANT
Make sure you have permissions in place from all parties involved to include their information, news and other details in your press release(s) before issuing.
Additional Resources:
http://en.wikipedia.org/wiki/Press_Release
https://www.arnimadesign.com/wp-content/uploads/2013/01/HowToWrite1A.jpg
900
1200
Arnima Design
https://www.arnimadesign.com/wp-content/uploads/2013/05/RR-Logo-MultiColor-04Jun13-190_80.png
Arnima Design
2013-01-03 07:00:31
2016-02-02 01:40:36
How to Write an Effective Press Release