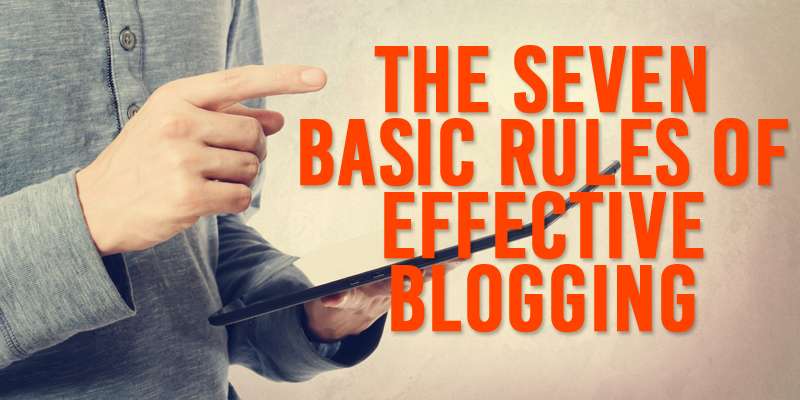 Blogs are a great way for people to get information from the Internet.
Some of the most reputable and popular sites on the Internet are, in actuality, just blogs and such websites can generate a lot of traffic if managed properly. When you decide to start a blog, there are seven basic and important rules you need to follow that will help you to be successful and generate good traffic as your blog gains popularity over time
Blog posts can be of the following type:
-Informative (about a product, service, company, tradeshow etc)
-Educational (how something works etc)
-Introductory (introducing a new product or part or attachment)
-Entertaining (a story, an anecdote or narration of something interesting or funny)
-Promotional (introducing a special offer or promotion)
-Instructional (how to etc)
Blog posts should have genuine, human-targeted content with relevant keywords – it would be best to take a topic of narrow focus (generally with emphasis on 2 keywords) and discuss that. Be sure that each keyword appears 2-3 times in the blog; the longer the post, the more you should use the keyword but remember to not over-do the keywords.
Choose One Topic
The first rule of blogging is to pick one specific topic per blog and write everything there is to write on that topic. It is best to pick a topic that you have a passion for so that you can find the motivation to write the content you will need to write. When you choose a single theme for a blog, you also make it easier for your content to be seen on search engine results.
Add Content Regularly
If you want a successful blog, then you need to add new content regularly. This does not mean that you necessarily need to write new content every day, rather, at an established frequency. You can write all of your content for one week or for a month, or even longer, save it and then post it throughout the week or setup your blog to automatically publish such content on a periodic basis. However you do it, you need to make certain that you have some kind of new content added regularly.
Tag Your Content
When you add new content, always be sure to put the proper tags on your content and put it into its proper category. That is important in making sure that your content shows up on the search engines under the appropriate search criteria.
Use Guest Writers or Authors
If you can get guest content from well-known writers that is original and not reprinted from other websites, then use that as well. It will add to the authority and credibility of your blog.
Maintain a Schedule
You need to create and maintain a consistent schedule for your content in order to gain and keep an audience. For example, if you blog about flower, then your blog should have a new, relevant, unique and meaningful article about flowers or related subjects on a regular basis. Try your best not to vary your schedule unless you absolutely cannot help it.
Have a Voice
Your readers will often come back to read your content because they either agree or disagree with your point of view. When you create your content, you need to have an opinion and a voice that gives readers something to think about. As a suggestion, end eacb blog post with a meaningful question to give your readers something to ponder over.
Make it Interactive
In every article, you need to invite comments from readers and get involved in those conversations. The more accessible you make yourself through your blog, the more people will be interested in what you have to say.
Apart from that be creative and have fun with the blog – it is a great way to engage with your audience. Remember, a blog takes several months, and sometimes years to gain traction and it is easy to get discouraged but the key is to never give up.
What has your experience been when it comes to blogging?
https://www.arnimadesign.com/wp-content/uploads/2012/05/Arnima-The-Seven-Basic-Rules-of-Effective-Blogging.jpg
400
800
Rajeev Ratra
https://www.arnimadesign.com/wp-content/uploads/2013/05/RR-Logo-MultiColor-04Jun13-190_80.png
Rajeev Ratra
2012-05-14 11:00:04
2016-02-02 01:40:37
The Seven Basic Rules of Effective Blogging